Life as an ICU Nurse at VGH During a Pandemic
For 12 years, Dana Fedor has proudly served as a nurse at VGH caring for some of the province's most critically ill patients.
From the moment she graduated from Thompson Rivers University in 2008, she moved down to Vancouver and jumped headfirst into the neurosciences department. Dana worked in this department for a year before moving into what some consider to be one of the most challenging units in nursing – the Neuro ICU.
Her work in the Neuro ICU consisted of helping patients recover from all matter of brain-related injuries and illnesses, from head traumas to complex neurological diseases and conditions.
"I did that for five years and also did some charge nursing, but in the fall of 2013 I went for my critical care diploma, and jumped into the main ICU," says Dana. "I just knew that I've always wanted to do critical care, helping people through some intense traumas."
One of those "intense" cases she helped care for was Alison Snowden, a double-lung transplant recipient and Oscar-winning writer, director and animator known for her work on Peppa Pig, Shaun the Sheep, Bob and Margaret and many more.
But as the COVID-19 pandemic escalated, her work took a drastic turn.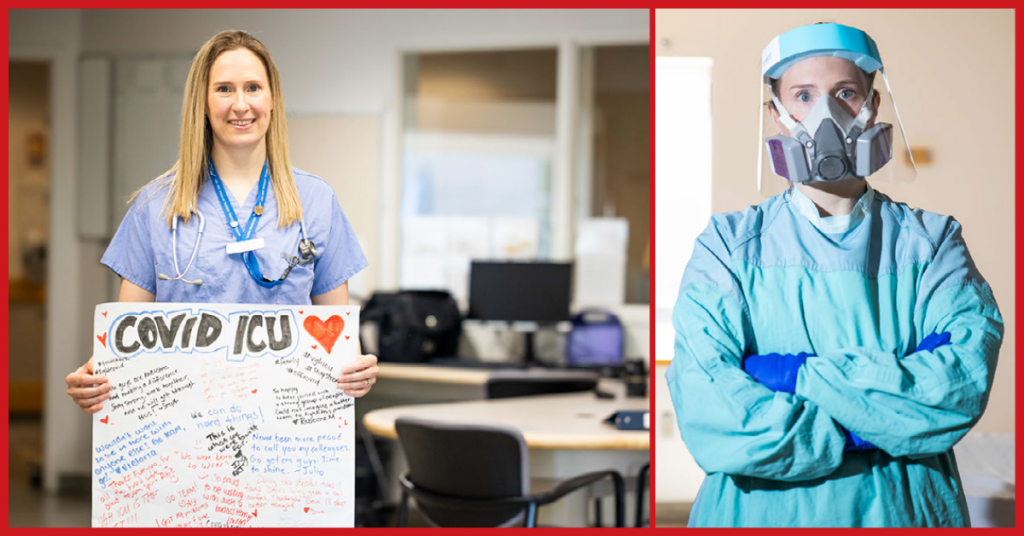 Fighting on the front lines against COVID-19
When Dana started nursing, she never imagined she would be working during a pandemic.
"Looking back, I can honestly say this has been one of my most difficult times in my 12 years working as a nurse," says Dana. "I have experienced every emotion humanly possible: fear, sadness, anger, pride, love. I have worked late and arrived home physically and mentally exhausted."
But despite it all, Dana knows there is nowhere else she would rather be than fighting alongside her ICU family – the fellow nurses and doctors who continue to astonish her as they care for COVID-19 infected patients at VGH.
"I have been so impressed with how quickly my VGH colleagues have adapted to the new COVID-19 measures," says Dana. "It takes a lot to come together as a team during such an unprecedented time, but what I've been reminded of again and again is how strong we are, even in the worst of times."
It's interesting, Dana reflects, as when COVID-19 first arrived in BC she remembers feeling fearful about not knowing what was about to happen. But when she got back into the hospital, her fears were alleviated.
Dana saw how coordinated and careful the staff were being. How much thought and care they were putting not just into patient care, but into caring for the staff, too.
"Now I'm going into the warzone, taking care of the COVID patients, but I'm not scared," says Dana. "We're learning more every day, and I feel like we're going to get through this together."
Feeling the support
"As hard as it has been emotionally, I feel so proud to be a nurse and work alongside all the amazing staff at VGH and to receive the support of the community," says Dana. "Even just going into work, I remember I was driving in one day, and at 7 p.m. I saw two ladies who had cowbells out and they peered into my car and they started waving and cheering. I'm not normally an emotional person, but I freely admit I was tearing up that evening."
Dana continues to soldier on, and it's the love from her Vancouver community that has helped her push through to keep fighting.